Fluidmesh
wireless connectivity for dependable transmission of data, video, voice and Wi-Fi

Fluidmesh products are successfully in use across the globe to stream data, video and voice from remote locations and moving vehicles. Read about some of the success stories in North America rail. TPSC represents Fluidmesh to the rail industry. In addition, our sibling company, Automated Railroad Maintenance Systems (ARMS) is a gold-level reseller that supports railroads with certified RF engineering, and domain expertise for planning integrated systems and comprehensive kits containing Fluidmesh products.  Learn more about Fluidmesh gold-level partner ARMS. 
License-Free Broadband Wireless
Fluidmesh fixed and mobile wireless networks do not require any governmental license to be deployed and used. Users can connect a wide area at 500Mbps without waiting for any third-party approval.
Cost Effective
Fluidmesh track-side network can leverage the existing poles and towers. Moreover, the Fluidmesh mobile transmission protocol, FLUIDITY allows on-board radio device to switch to a cellular or satellite technology when the train is in an area not equipped with FLUIDITY trackside technology.
Highly Reliable and Secure
Fluidmesh innovative transmission protocol is built to overcome the limits of standard wireless protocols security and to deliver an infrastructure that reduces risk from hackers. Thanks to its proprietary protocol and AES encryption, Fluidmesh is a trusted vendor of the US Army, US Navy, and many other military forces around the globe. This level of performance makes Fluidmesh the foremost choice to manage unmanned metro and subways using CBTC technologies, intermodal crane operations, movable bridges and the like where security is vital.
Interferences Free
Fluidmesh radios are fully certified to transmit only on designed frequencies. Fluidmesh wireless products are designed to create no harmful interference to other radio technologies operating on different channels. Additionally, the Fluidmesh proprietary transmission protocol copes with the negative effects of environmental interference, providing reliable streaming in interference-dense environments. This makes Fluidmesh a leading choice for railroad intermodal terminals, classification yards, transit stations and busy urban or industrial environments.
High Speed Vehicle Connection 
Fluidmesh mobile transmission protocol FLUIDITY can connect an on-board radio roaming at up to 225mph. Nobody is able to beat the performances of Fluidmesh track-side wireless technology with hand-off below 3ms and no packets dropped.
Intra-train Wireless Bridging
Fluidmesh Intra-train Wireless Bridging Solutions for Heavy Commercial Rail and Passenger Rail. End-to-end broadband connectivity is an increasingly common requirement in both heavy commercial rail and passenger rail. As a leader in wireless rail communication systems, Fluidmesh has developed a wireless Intra-train solution that supports up to 500 Mbps of available throughput and aims to solve many of the intra-train connectivity problems faced by today's rail operators.
Wi-Fi Connectivity On-Board
Fluidmesh patented fast-roaming Multiprotocol Label Switch (MPLS) trackside technology can deliver more reliable Wi-Fi connectivity up to 500 Mbps to fast moving vehicles, with a seamless handoff and no service disruption.  It is one of the first technologies already deployed along high speed railroad with trains travelling at 300 Km/h as described in the paper Fluidmesh published at the World Congress on Railway Research (WCRR) in May 2016. With Fluidmesh, rail and transit agencies can transmit real-time video from on-board security cameras, and deliver reliable Internet on-board, real-time passenger information, on-board entertainment, and digital advertising.
Wireless Train Control and CBTC
Fluidmesh's unique fast failover technology, TITAN can guarantee secure and continuous connection to provide confidence needed to run automatic train operations.
Extend Connectivity Through Tunnels
A Fluidmesh FLUIDITY network can reach where 3G/4G LTE networks can't – like in tunnels. FLUIDITY performs with no flaws by taking advantage of multi-path with its MIMO-based radio technology and dual-polarized track-side and on-board antennas.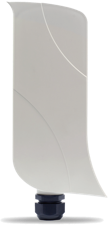 FM 1200 VOLO
A 2×2 MIMO-based Ethernet radio, VOLO is designed for mission-critical video, voice, and data. VOLO is intuitive, easy to deploy, and can be used to create point-to-point, point-to-multipoint, mesh, and mobility networks with a real throughput of up to 150 Mbps.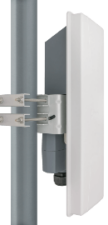 FM 3200 BASE
The FM3200 BASE is rugged designed, specific for harsh environments and long lasting performances. It can be used to create point-to- point, point-to-multipoint, mesh, and mobility networks with a throughput of up to 150 Mbps.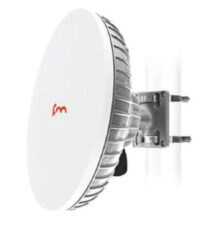 FM 1300 OTTO
The Fluidmesh 1300 OTTO is long range wireless bridge designed for point-to-point links up to 500 Mbps. Despite its compact form factor, this long range wireless bridge can be deployed for links exceeding a distance of 10 miles.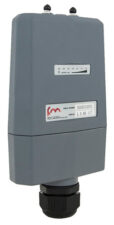 FM 3200 ENDO
The FM 3200 ENDO is designed and manufactured for backhauling mission critical video, voice and data. The FM 3200 ENDO can be used to create point-to-point, point-to-multi point, mesh, and mobility networks with a throughput up to 150 Mbps.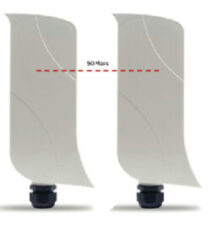 FM PONTE
Fluidmesh PONTE has been designed to provide a simple out of the box industrial grade solution to create a reliable point-to- point wireless link with minimum installation time and maximum reliability.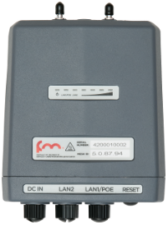 FM 4200 MOBI
Powered by the FLUIDITY TM technology, the FM 4200 MOBI can be installed on trackside poles to deliver fast and stable connectivity to vehicles. The FM 4200 MOBI has already been awarded numerous railway and transport certifications.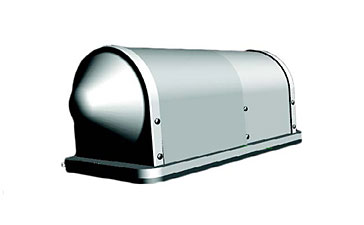 FM-SHARK-16
High Speed Rail Antenna
Dual feed, dual slant ± 45°, linear polarization
Designed for metallic or non-metallic roof mounting, no ground plane required
Extremely rugged purpose built for rail applications
Symmetrical patterns, maintains same pattern performance over each polarization
High port-to-port performance correlation
RAIL CERTIFICATION
Meets EN50155 requirements