TPSC is proud to represent GNB since 1989, and Railroad Battery Services (RBS) since 2008. RBS specializes in products and services to maximize the performance, life and health of batteries used in railroads' locomotive, signal and communication applications.
Maintenance for Locomotive Starting Batteries
RBS BatteryNurse™ systems provide high performance charging and testing stations for optimal health and reliability of starting batteries. The systems are designed to maximize process flow within each facility so that locomotive batteries can move expediently through the essential stages: Triage > Watering > Bulk Charge >Test > Float Charge.
This creates a store of qualified batteries that are available for immediate service, and prevents installation of bad or improperly charged batteries that could cause no-starts and require redundant maintenance.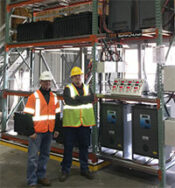 Proper Battery Maintenance is essential for both in-service and stored batteries to prevent unnecessary replacement cost, and to ensure adequate starting power.
– RBS can help railroads protect valuable battery assets during locomotive storage periods.
– TPSC can provide educational training sessions for your railroad's mechanical electricians and personnel who work with locomotive starting batteries to help establish proven and safe practices that can maximize battery life and performance.
– RBS Single-point Watering System with Flow-Rite controls is uniquely equipped to deliver the right amount of water to every cell, every time.
– RBS offers other high caliber products for testing, charging, desulfating and maintaining locomotive starting batteries.
GNB EHI Charger provides robust high frequency IGBT based design that is energy-saving and CEC compliant. User-friendly programming provides conventional, opportunity and fast charging profiles optimized for Flooded and VRLA batteries. Offers ability to connect charger to network for remote monitoring and control.
Maintenance for VRLA Batteries used with Railway Signaling and Telecom Equipment
TPSC can provide training sessions to help railroad engineering teams and maintainers understand the proper maintenance of GNB valve-regulated (VRLA) batteries along with charging, sizing and inspection methods that will ensure adequate power is available when needed, and for as long as needed.