PCTEL
high performance purpose-built antennas

From the design of locomotive antenna farms to custom multiport, multiband, and precision GPSC antennas, PCTEL elevates RF performance for the rail industry, and is uniquely prepared to meet the increasing need for highly advanced antenna technologies.
PCTEL Antennas:
Combination Antennas
Wi-Fi/Bluetooth/BLE
LMR/TETRA/P25
GNSS/GPS
Cellular (5G, LTE, CBRS,3G, 2G)
ISM/LoRa/LPWAN
Custom Antennas
Mounts, Cables and Accessories
Industrial IoT Devices:
Access Point
Radio Module
Custom Product Design
Test & Measurement
Scanning Receivers
Public Safety Network Testing Solutions
PCTEL On-Board PTC Antennas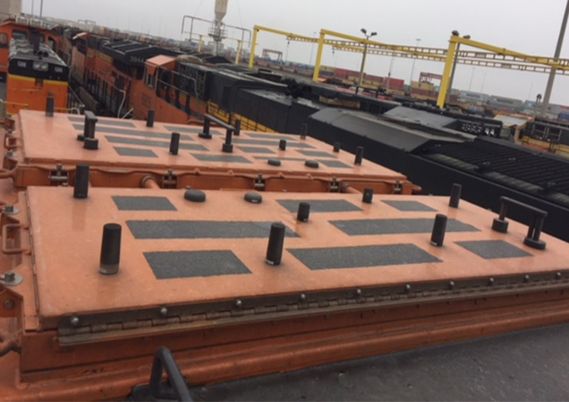 ARMS | PCTEL Multi-Element Locomotive Antenna Farms
Antenna placement optimized by PCTEL RF engineering team
Complete with cabling arrays that run to cab/distribution location
May include pigtails and required termination
Long-haul cables with color coding for ease of ID and segregation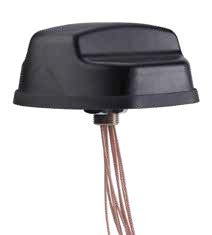 GNSS L1 L2 L5 Multi-Band Antenna, Dual-Port 4G LTE and 802.11ac MIMO
PCTEL's GL125-DLTEMIMO multi-band antenna meets the stringent requirements of complex RF communication systems in rail transportation applications.  This antenna features two diversity 4G LTE elements that facilitate the high-speed data transmissions needed in dense RF environments used for Positive Train Control (PTC) networks. The platform also incorporates dual band 802.11ac Wi-Fi MIMO connectivity with two Wi-Fi elements. PCTEL's proprietary high-rejection, multi-constellation GNSS L1 L2 L5 technology is also included for high precision location tracking.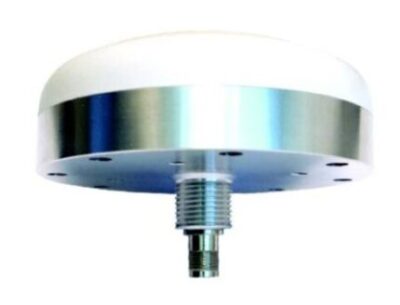 Multi-GNSS High Performance Antenna
The GNSS-L125-TNC is a multi-GNSS high performance antenna; and the GNSS-L125-40TNC is a high gain, multi-GNSS high performance antenna. Both are designed to meet stringent AAR environmental standards. Both antennas feature a multi-stacked patch design covering global GNSS frequencies, a multi-stage LNA and advanced filtering to combat the effects of adjacent band interference. These antennas have a hermetic seal, and are AAR tested and approved. The GNSS-L125-40TNC antenna comes with a 5-year warranty and features High Gain (40dB typ.)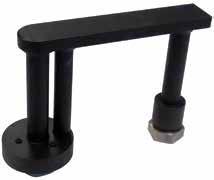 Low-Profile Wideband Rail Antennas
The PCT-RSA omnidirectional antennas are designed to survive rugged applications and can be roof mounted on locomotive, crew car, or other railroad vehicles exposed to severe vibration and other tough environmental conditions.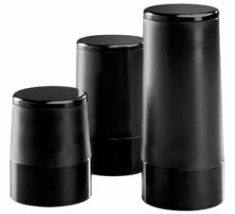 Low-Profile Antennas – MLPV Series
PCTEL's MLPV antennas provide superior pattern coverage for mobile and fixed applications from 380 MHz to 6 GHz. Their design provides industry leading wideband performance and reliability, with minimum loss and no tuning required. Multi-band versions are also available. All models feature an attractive, compact housing environmentally tested for both indoor and out. Antennas can be purchased separately, or as a kit assembly with the MVPHP mount for permanent installations (VP option).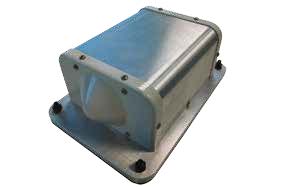 Bi-Directional Train Top Antenna
The PCT-RSABD-DP bi-directional antenna is designed to survive high vibration rail installations, including roof mounting on locomotive and passenger cars.
PCTEL Wayside and Base Station Antennas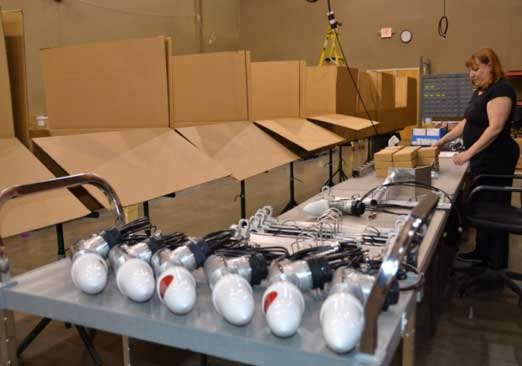 PCTEL Antenna Mounts and Accessories
Mounts, brackets and pipe masts for multi-directional antennas and omnidirectional antennas
ARMS Antenna Kitting
ARMS antenna kitting projects are tailored to each installation and each railroad's specific requirements. Kits can include some integrated parts, mounting hardware, cable, instructions, and even tools to support easy, fast, and consistent installations by railroad staff.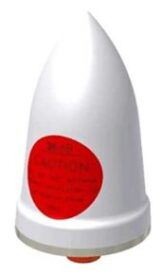 High Rejection 26 dB with Enhanced Narrow Band Filtering
The GPS-TMG-HR-26 timing reference antennas feature a 26 dB amplifier and narrow band high rejection filtering specifically designed to support long-lasting, trouble-free deployments in congested cell-site applications with severe interference around the GPS L1 frequency.
The proprietary quadrifiliar helix design, coupled with multi-stage filtering provides superior out-of-band rejection and lower elevation pattern performance than traditional patch antennas. The unique radome shape sheds water and ice, while eliminating problems associated with bird perching. The antenna may be purchased by itself or with pipe mounting hardware. Custom models or site kits options are also available. The antenna label and collar mount are color coded red for differentiation purposes.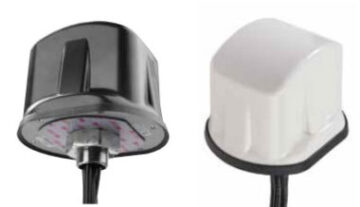 Multi-Band LTE MIMO LTE (x2), GPS, Wi-Fi (optional) for fixed and mobile applications
The Trooper antennas provide optimal 4G LTE and dual-band 802.11ac Wi-Fi coverage in a single, low-profile housing. Its compact footprint makes this antenna ideal for installation on surfaces with limited surface space, including leading public safety vehicle rooftops and many machine-to-machine applications. The antennas also incorporate PCTEL's unique high rejection GPS/GLONASS technology for optimal performance and support of carrier voice and data networks. UV-resistant black or white housing options.

LTE Cellular Broadband Omnidirectional Antenna with Integrated GPS Unit
The LCMGPS-PTNF-4LTE-UP multiband antenna utilizes PCTEL's broadband element technology to achieve superior bandwidth performance. This platform offers multiband coverage, high rejection GPS LNA technology, an easy to install design with "top shelf" materials to provide maximum durability and performance for mobile data and video communications.
Multiband coverage: 700 MHz LTE, 800 MHz Cellular/SMR, 900 MHz GSM/ISM, 1700-2200 MHz GSM/PCS, 3G/4G LTE, AWS, 2.4 GHz Wi-Fi and 2.5-2.7 GHz WiMAX broadband wireless frequencies. Dual carrier compatibility.

800/900 MHz Fiberglass Base Station Omnidirectional Antennas
PCTEL's MFB 900/800 MHz series are base matched half wave antennas encapsulated in heavy-duty fiberglass radomes with a thick-walled aluminum mounting base for reliable long-term use. All models are DC grounded and UPS shippable.
White UV-resistant pultruded fiberglass radome; Thick-walled aluminum mounting base. Unity, 3 dB, 5 dB, 7 dB models. Temperature range -40⁰C to +85⁰C