GSS
environmental services for communication tower installation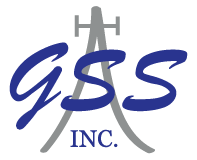 GSS provides the expertise, research, process management and documentation needed to comply with governmental policies and requirements relevant to the installation of communication transmissions towers, antenna installations, and positive train control (PTC) towers/poles.
National Environmental Policy Act (NEPA) Evaluations
GSS searches relevant databases, obtains wetlands and flood plain maps and submits written information requests to State agencies and the US Department of Fish and Wildlife to make such determinations. Where applicable, GSS will perform biological assessments in order to document whether or not the proposed tower will negatively affect critical habitats or threatened or endangered species. GSS utilizes the industry's most precise standards on each and every site to ensure that your project is NEPA compliant.
SECTION 106 SUBMITTALS
GSS offers the most complete, accurate, professional and cost effective compliance services available to the wireless industry. All facets of the investigation from historic sites research to archaeological and architectural historical field surveys are conducted by state recognized and US Department of the Interior qualified personnel. Submittals are made via the FCC e106 system used in conjunction with the Tower Construction Notification System (TCNS). GSS has built and maintains strong relationships with Native American tribes and State Historic Preservation Office's, which aids in response procurement and thus shortens timelines.
PHASE I AND II ENVIRONMENTAL SITE ASSESSMENTS
All Phase I Environmental Site Assessments (ESA) are performed in compliance with the ASTM Standard E1527-13 (or the most current version). The Phase I is an informational research report documenting the history of the property. It is compiled via records searches, owner and occupant interviews, historical maps, construction diagrams (where applicable) and property title records. The purpose of the Phase I is to determine if there are recognized environmental conditions (RECs) connected with a property.
RISK BASED CORRECTIVE ACTION (RBCA) EVALUATIONS
GSS provides RBCA evaluations based upon state specific formats and pathways. Whether your site requires a Tier 1, Tier 2 or Tier 3, GSS will provide the most accurate and cost effective evaluation in the industry. GSS provides professional services related to drilling and completion of test boreholes, monitoring, sniffer and recovery wells. Services also include well siting, site supervision, well site geology, soil and groundwater sampling, soil gas screening, surveying and well completion. The character of the site will determine the extent of the assessment program. GSS provides assessment planning programs where both on and off-site drilling may be required. A completed assessment includes investigations related to off-site contaminant contribution and sites that impact major thoroughfares and waterways.