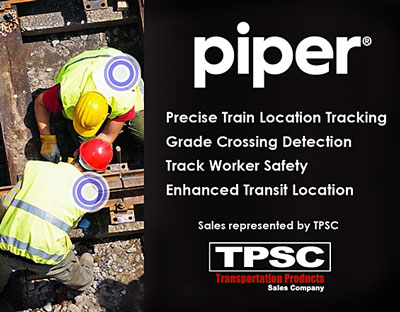 TPSC Announces Piper Networks Sales Representation Rail Industry
O'Fallon, MO — 10/07/2020 — Transportation Products Sales Company (TPSC) today announced it has entered into an agreement to represent Piper Networks, an innovative technology company to the rail transportation industry across North America.
Piper's expertise with ultra-wideband (UWB), Bluetooth Low Energy (BLE) and other RTLS technologies has led to successful deployments of Enhanced Transit Location System (ETLS) for major transit authorities. Piper successfully completed a nine-month pilot of UWB technology on two MTA New York City Transit lines to modernize the agency's signaling system. Piper Networks and partners demonstrated the potential for UWB positioning technologies to integrate seamlessly with Communications-Based Train Control (CBTC) to improve system reliability and the speed of delivery for upgraded signaling systems.
Piper's new Helix™ platform employs a variety of sensor inputs to meet many of the demands of suppliers, integrators, and operators. For example, the same UWB and LIDAR to detect people and vehicles entering a grade crossing; using devices on trains and crossings that communicate in real-time and trigger appropriate safety protocol when necessary.
"Our primary goal is the development and implementation of intelligent technologies that propel the transportation industry forward," said to Robert Hanczor, Piper Networks Founder and CEO. "TPSC has built a strong reputation as a sales leader and we look forward to collaborating with them to expand our customer base."
To help enterprises provide safe environments for workers, Piper very recently launched ViTRACE, which is both a Contact Tracing and Social Distancing Alert solution that also uses Piper's reliable UWB technology.
"We are highly impressed with Piper Networks UWB expertise in ETLS Train Positioning to within 10cm," said TPSC President, Sid Bakker. "Their tested, proven, and certifiable systems enable mission critical systems to move forward with high precision for CBTC, Roadway Worker Protection, Contact Tracing and Social Distancing. TPSC's sales force is eager to present these enabling technologies to the rail industry."
About TPSC
Transportation Products Sales Company (TPSC) is a professional sales management organization that represents select manufacturers of "Best in Class" products, software, and services to the North American Rail Industry. Founded in 1986, the privately held company today has offices in 11 locations, including their headquarters near St. Louis, Missouri.
For more information, visit our website at https://www.tpscrail.com/PIPER
About Piper Networks
Piper Networks is an innovative solutions provider and systems integrator with transportation industry expertise. The company was founded in 2011 and is based in San Diego, CA with offices in New York City. Piper Networks helps transit operators enhance signaling systems by providing ultra-precise, real-time positioning information for trains, buses, and equipment.