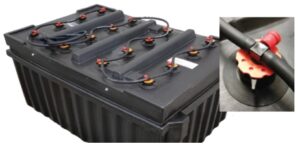 Success Story: RBS Single-Point Watering Systems Protect Locomotive Batteries
Many Class 1 and Short Line railroads have successfully tested the RBS Single-Point Watering System and proven its value in optimizing the performance and service life of their locomotive starting batteries. Designed exclusively to fit locomotive battery compartments, the RBS Single-Point Watering System is the only SPWS designed specifically to work on all major brands of locomotive starting batteries.
The success of these systems is entirely based on Flow-Rite Controls' valves which automatically ensure the correct amount of water is delivered to each individual cell, including those located in the hard-to-reach back cavity of the battery compartment.
Frequent locomotive starts demand aggressive charging. This increases water use within the batteries. Maintaining the proper level of water in each cell is essential to ensure cranking amps are available when needed.
RBS sales are managed by Transportation Products Sales Company (TPSC).