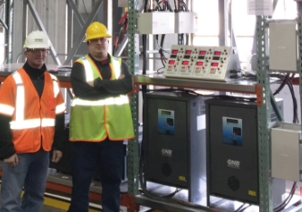 Success Story: RBS BatteryNurse™ Charging/Testing Systems
The RBS BatteryNurse™ automated battery charging/testing systems have gained wide acceptance with Class 1 railroads as they've proven to provide the optimal equipment and method that ensures locomotive starting batteries are fully charged when needed. What's more, they vastly improve the low State-of-Charge conditions that negatively affect overall battery life.
RBS BatteryNurse™ systems are designed to maximize process flow within each facility so that locomotive batteries can move expediently through the stages: Triage > Watering > Bulk Charge >Test > Float Charge. This creates a store of qualified batteries that are
available for immediate service and prevents installation of bad or improperly charged batteries that could cause no-starts and require redundant maintenance.